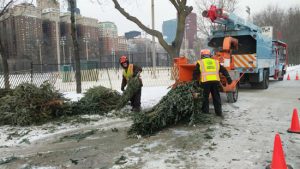 City of Chicago Announces Annual Holiday Tree Recycling Program
Recycle your holiday tree and receive free mulch when available.
The Chicago Department of Streets and Sanitation (DSS), in partnership with the Chicago Park District, announced that the City's annual holiday tree recycling program will run from Saturday, January 6 through Saturday, January 20, 2018, at 25 locations citywide.
The holiday tree recycling program is not able to accept wreaths or garlands.  Ornaments, lights, tinsels, and tree stands must be removed before the tree is dropped off and trees should be removed from any bags when placed in the tree recycling corrals.
Trees recycled through the program are turned into mulch, wood chips for use at Chicago Park Districts and materials for use by the Metropolitan Water Reclamation District.
Last year, the program mulched more than 21,000 trees. Free mulch will be available for residents to pick-up beginning on January 8, at six designated locations.
Participating locations include:
(*free mulch locations)
• Bessemer Park, 8930 S. Muskegon Ave.
• Clark Park, 3400 N. Rockwell St.
• Forestry Site*, 900 E. 103rd St.
• Garfield Park, 100 N. Central Park Ave.
• Grant Park, 900 S. Columbus Dr.
• Humboldt Park Boathouse, 1369 N. Sacramento Ave.
• Jackson Park, 6300 S. Cornell Ave.
• Kennedy Park, 2427 W. 113th St.
• Kelvyn Park, 4438 W. Wrightwood Ave.
• Lake Meadows Park, 3117 S. Rhodes Ave.
• Lincoln Park*, Cannon Dr. at Fullerton Ave. (Parking lot east of Cannon Dr.)
• Margate Park*, 4921 N. Marine Dr.
• Marquette Park, 6700 S. Kedzie Ave.
• McKinley Park, 2210 W. Pershing Rd.
• Mt. Greenwood Park*, 3721 W. 111th St.
• North Park Village*, 5801 N. Pulaski Rd.
• Norwood Park, 5801 N. Natoma Ave.
• Portage Park, 4100 N. Long Ave.
• Riis Park, 6201 W. Wrightwood Ave.
• Rowan Park, 11546 S. Avenue L
• Sheridan Park, 910 S. Aberdeen St.
• Walsh Park, 1722 N. Ashland
• Warren Park*, 6601 N. Western Ave.
• Wentworth Park, 5701 S. Narragansett Ave.
• West Chatham Park, 8223 S. Princeton
For more information on recycling in Chicago visit: www.cityofchicago.org/dss.
Source:  Alderman Walter Burnett – 27th Ward Newsletter 1/2/18