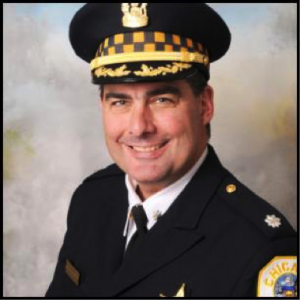 Visitation for Commander Paul R. Bauer will be held until 9:00pm this evening, Friday, February 16, 2018 at Nativity of Our Lord Church, 653 W. 37th Street, Chicago, IL 60609.  Today also marks Commander Bauer and wife, Erin Bauer's 16th Wedding Anniversary.
The funeral service for family, close friends and colleagues will be held Saturday, February 17, 10:00am at the Nativity of Our Lord Church, and will streamed live on ABC for all to watch.
Due to the extremely large anticipated gathering for the honors funeral for Commander Paul Bauer on Saturday, the Chicago Police Department and the Chicago Office of Emergency Management and Communications are encouraging those wishing to pay their respects to do so along the funeral procession route to Holy Sepulchre Cemetery, 6001 W. 111th Street, Alsip, IL 60803.
The funeral procession will begin at Nativity of Our Lord Church, 652 W. 37th Street, and proceed south on Halsted, east on Pershing Road to 90/94E to I-57S to 111th Street, south on Vincennes to Monterrey, west on Monterrey (111th Street) to the cemetery.
The City encourages the public to turn the route blue during the procession to show their support for Commander Bauer's family and the Chicago Police Department. In addition to wearing blue and displaying blue ribbons, items such as Chicago flags, American flags and CPD flags are also encouraged.
In addition to the services, residents can honor Commander Bauer's service and sacrifice by leaving their remembrances in sympathy books for his family. The books are available to be signed in the lobby of City Hall and in the lobby of the 18th Police District until further notice.
A Memorial Fund has been established for Commander Bauer, where donations will go directly to his wife Erin and daughter Grace.  For more information, visit https://www.cpdfcu.com/bauer.
Source:  Alderman Reilly Reports 2/16/18