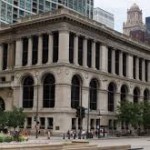 The Department of Cultural Affairs and Special Events (DCASE) cordially invites all Chicago residents and visitors to attend the Chicago Cultural Center Winter Open House.
Friday, February 21, 2014
11:00am – 7:30pm
Chicago Cultural Center
78 E. Washington Street
Chicago IL, 60602Live entertainment begins at 11 a.m. with the Juicebox performance  series and continues with a Wired Fridays mid-day DJ dance party at  noon. The Open House concludes with opening receptions for two new  exhibitions, Mecca Flat Blues and Thirty-Five Years of Public Art, and  LiveWire Chicago's premiere of Assistance by Leslye Headland across the  street at the Storefront Theater at 7:30pm.
 All events are FREE unless  noted.  A full schedule of events is available here.