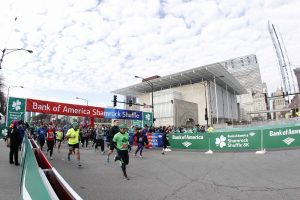 As preparations begin for one of Chicago's classic races in the downtown area, the Chicago Office of Emergency Management and Communications (OEMC) reminds residents of the traffic impacts for the set up and duration of the 39th annual Bank of America Shamrock Shuffle 8K race on Sunday, March 25, 2018, which includes over 25,000 runners.
The Bank of America Shamrock Shuffle 8K on Sunday starts in two waves, with the first wave beginning at 8:30am and the second wave taking off at 9am. The 2-mile walk with an estimated 1,000 participants, begins at 9:30am.
Traffic Impacts:
As in years past, organizers are working with the Chicago Police Department and OEMC to ensure that street closures follow a "rolling pattern" so as the last participant passes, the street will reopen and traffic will return to normal as quickly as possible.
Street closures will be in effect in the Grant Park area for preparations and set up of the event:
Friday, March 23, through Sunday morning:
• Balbo, from Columbus to Lake Shore Drive
Early Saturday morning, March 24:
• Columbus, from Roosevelt to Monroe
Sunday, March 25, approximately 8am to 11:15am:
• Columbus, from Monroe to Randolph
• Columbus, from Roosevelt to Grand
• Grand, from Columbus to State
• State, from Grand to Jackson
• Jackson, State to LaSalle
• LaSalle from Jackson to Randolph
• Randolph, from LaSalle to Franklin
• Franklin, Randolph to Harrison
• Harrison, from Franklin to Michigan
• S. Michigan, (northbound lanes) from Harrison to Roosevelt
• Roosevelt, (westbound lanes) from Michigan to Columbus
Columbus, from Monroe to Randolph will also be closed in the early morning hours of Sunday, March 25
Lake Shore Drive will remain open during the race.
For detailed information about the timing of street closures and a course map, please click here.
For more information on the race and course, see the website at www.shamrockshuffle.com.
City streets will re-open promptly as the final runners pass through (at a 15-minute mile pace). The Chicago Police Department will be responsible for closing and re-opening streets, they will do so in a manner ensuring runner and spectator safety.
In addition to race day route closures, residents and businesses should also be aware of the parking restrictions along the race course on Sunday. Vehicles not removed by that time will be ticketed and towed. To locate a towed vehicle, motorists can call 3-1-1 or 312-744-4444 (automated system).
For Chicago Transit Authority (CTA) Train and Bus information, visit www.transitchicago.com.
Additional Information:
Those attending the race events should always heed any warnings given and be cognizant of surroundings, reporting any suspicious activity to 9-1-1 or on-site security.
As with all major events in Chicago, OEMC will be monitoring activities and weather conditions, as well as deploying Traffic Control Aides to facilitate traffic.
To view the complete OEMC Press Release, please click here.