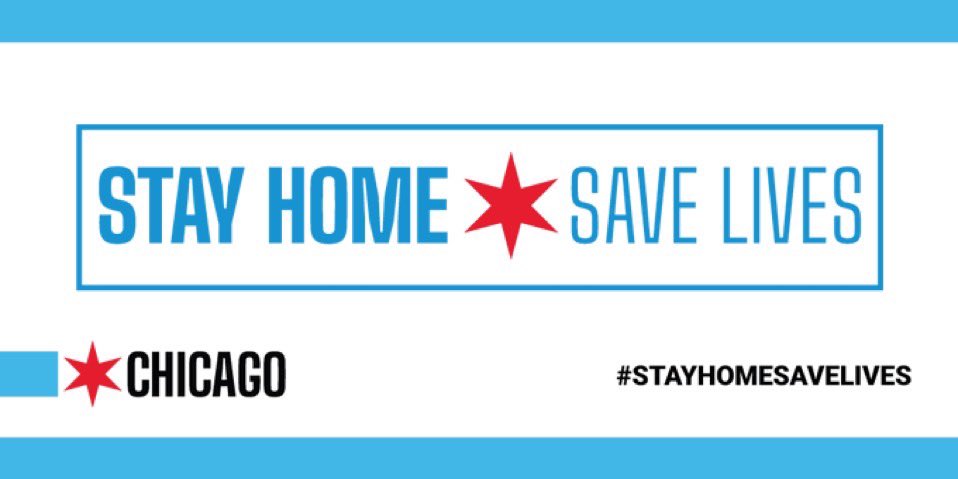 Dear Neighbor:
Although we have made great progress, Illinois has not yet reached our peak level of new COVID-19 cases. While recent data shows we are moving in the right direction, health experts must see a steady decline in new cases before major social distancing restrictions can be relaxed or lifted.
After weeks of data and trend analysis, the Centers for Disease Control and Prevention (CDC) and Chicago Department of Public Health (CDPH) released updated guidelines at the Individual, Family, and Multi-Family Residence levels to ensure we are doing all that we can to help slow the spread of COVID-19.
As we stay at home, the best way to protect yourself and others from COVID-19 is to continue to practice good hand hygiene and social distancing when in public. It is also important to note the difference between self-quarantine and self-isolation, terms that have been used frequently since Coronavirus began to spread in the United States.
Chicago Health magazine recently published an informative article distinguishing the difference between "Self-Isolation" and "Self-Quarantine." It is worth a read.
As a reminder, the following are COVID-19 Facts and Guidelines that apply to 
Know How COVID-19 Is Spread
• Coming in close contact (about six feet or two arm lengths) with a person who has COVID-19 – the virus is primarily spread from person to person.
• Being infected by respiratory droplets via cough, sneeze, or talking.
• Touching a contaminated surface and then your mouth, nose or eyes.
Protect Yourself and Others 
• There is no vaccine to protect against COVID-19. The best way to protect yourself is to avoid exposure to COVID-19.
• Stay home as much as possible and avoid close contact with others.
• Clean and disinfect frequently touched surfaces.
• Wash your hands often with soap and water for at least 20 seconds, or use an alcohol-based hand sanitizer that contains at least 60% alcohol.
Practice Social Distancing
• Complete activities online when possible, including buying groceries and medicine, doctor visits, and banking activities.
• If you must go out in public, maintain 6 feet of distance from others.
• Get deliveries or takeout, limit in-person contact and disinfect packages.
• Prevent the Spread if You Are Sick
• Stay home if you are sick, except to get urgent medical care.
• Avoid using all public transportation, ride-sharing or taxis.
• Separate yourself from the other people and pets in your home.
• There is no specific treatment, but seek medical care for symptoms.
• If you need medical attention, be sure to call the hospital first.
I know that the uncertainty and conflicting messages from various government leaders is causing all of us a tremendous amount of stress and concern.  Please know that the best expert minds, in every level of government, are working around the clock to help us manage this pandemic and identify a path to normalcy.  We will get through this crisis.
Thank you for continuing to be patient during these extraordinary (and sometimes frustrating) restrictions that have been implemented to protect our public health.
Although these restrictions are disruptive to our daily lives and represent a level of personal sacrifice, please remember our many neighbors who serve as first-responders and healthcare workers who are selflessly sacrificing so much more – on a daily basis – to help keep us safe and healthy. Let's keep those heroes in mind as we stay at home.
We must continue to flatten the curve.  The sooner we can turn the corner on COVID-19, the sooner we can all get Chicago re-opened for business!
For updates on COVID-19, please visit: City of Chicago, State of Illinois, and CDC.
Sincerely,
Brendan Reilly
President Pro Tempore
Alderman, 42nd Ward
To see most recent publications from all three River North Alderman, please go to RNRAChicago.org and select the menu item "Covid-19 Resources" and "Alderman Newsletters Covid-19".