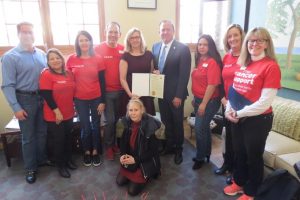 Last Month, Alderman Reilly visited Gilda's Club of Chicago to present them with a City Council Resolution, celebrating the organization's impressive work in providing free support for men, women, teens, and children, whose lives have been impacted by cancer.
Gilda's Club was named after Gilda Radner, one of the original cast members of "Saturday Night Live." Laughter and love were central themes of Gilda's career and life, including in her marriage to actor and comedian Gene Wilder, the original Willy Wonka. Gilda was diagnosed with ovarian cancer in 1985. She passed away in 1989, but her legacy lived on when her husband and friends established Gilda's Club and the first red door opened in New York City in 1995.
Gilda's Club Chicago opened its welcoming Red Door at 537 N. Wells on Valentine's Day in 1998, and since then they have reached more than 45,000 individuals.
To learn more, click here to download the resolution, or visit www.gildasclubchicago.org/.
Source:  Alderman Reilly Reports 3/2/18