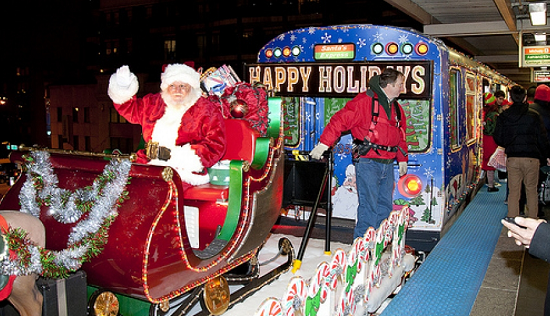 The Allstate CTA Holiday Train is a holiday tradition unique to Chicago, which, due to popular demand, is now accompanied by the Elves' Workshop Train. The Elves' Workshop Train follows the Holiday Train on Saturdays to help ensure everyone has an opportunity to experience this one-of-kind tradition.
Complementing these two CTA trains is the Allstate CTA Holiday Bus, which brings the same holiday spirit and joy to bus riders as it travels throughout Chicago's neighborhoods.
For a full list of 2nd Ward opportunities to view the trains and bus, please click here. The remaining times are also listed below.
CTA HOLIDAY TRAIN SCHEDULE:
• Blue Line on Dec. 6
• Blue Line on Dec. 7
• Blue & Pink Lines (Photos with Santa; Elves' Workshop Train in service and directly following the main holiday train only on Pink Line) on Dec. 8
• Red Line on Dec. 11
• Red Line on Dec. 13
• Red & Purple Lines (Photos with Santa; Elves' Workshop Train in service and directly following the main holiday train) on Dec. 15
CTA HOLIDAY BUS SCHEDULE:
• #66 Chicago on Dec. 4 (Photo session with Santa at Navy Pier between 4:15 p.m. and 5:15 p.m.) & Dec. 5
• #29 State on Dec. 12 (Photo session with Santa at Navy Pier between 5:25 p.m. and 6:25 p.m.) & Dec. 13
• #49 Western/#X49 Western Exp. on Dec. 19 (Photo session with Santa at 79th and Western between 4:25 p.m. and 5:25 p.m.)
Source:  Alderman Brian Hopkins -2nd Ward Newsletter 12/4/18