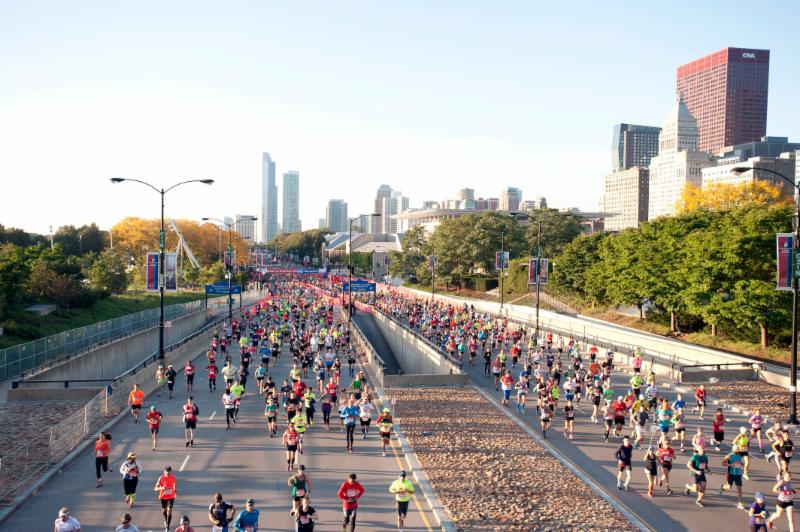 On Sunday, October 7 over 45,000 runners from all 50 states and more than 100 countries will participate in the Bank of America Chicago Marathon – a 26.2 mile course which starts and finishes in Grant Park, winds through downtown streets in the 42nd Ward and Chicago neighborhoods to the north, west and south. Motorists and pedestrians should anticipate delays due to street closures and large crowds. In addition, parking bans will be in effect along the route.
This year, 815 42nd Ward residents will be participating, among the more than 9,000 Chicagoans representing all 50 wards.
The Chicago Marathon begins at 7:20am (wheelchair race), 7:30am (marathon wave 1) and 8:00am (marathon wave 2), and will continue throughout the day. The Start and Finish Line are both located in Grant Park on Columbus Drive. The route extends north to just before Irving Park, west to Damen Avenue and south to 35th Street.
Traffic Impacts for Chicago Marathon-Sunday, October 7
Anyone traveling throughout downtown and the various neighborhoods along the route should allow extra time and expect delays. Motorists should consider alternate routes – such as the expressway system – to avoid the impacts of the race. Some street and lane closures are already in place in the Grant Park area, including Columbus from Roosevelt Road to Balbo Drive and Balbo Drive from Columbus to Lake Shore Drive.
By Saturday, expect additional Grant Park street closures on Columbus, Balbo, Congress, Jackson and Monroe, with most streets in Grant Park reopening by Monday morning. Street closures along the route will begin at approximately 7:00 a.m. on Sunday and are anticipated to be reopened by 4:30 p.m. or when it is deemed safe to do so.
Please click here to view the street closure list and map.
The towing of vehicles along the course will be strictly enforced beginning at 1:00am on Sunday, October 7th. Please check signage for parking restrictions if you are parking near the marathon route. Vehicles will be ticketed and towed to the nearest auto-pound. For inquiries about towed vehicles, please call 312-744-4444.
Traffic Impact for Chicago International 5K-Saturday, October 6
Returning for the 3rd year in a row, the Chicago International 5K will occur the day before the Bank of America Marathon on Saturday, October 6.
The Advocate Health Care International Chicago 5K course will start at Daley Plaza at 7:30am and weave through downtown taking runners on a 3.1 mile journey past iconic Chicago landmarks.
Please note that participants will only be running along Michigan Avenue, from Harrison, down to 11th street and then back to Harrison.
Additional information on traffic impacts can be found on the Chicago Marathon website: www.chicagomarathon.com.
As always, public transportation is encouraged. For more information on CTA services and reroutes, visit www.transitchicago.com or call 836-7000/1-888-YOUR-CTA.
Source:  Alderman Reilly Reports 10/5/18