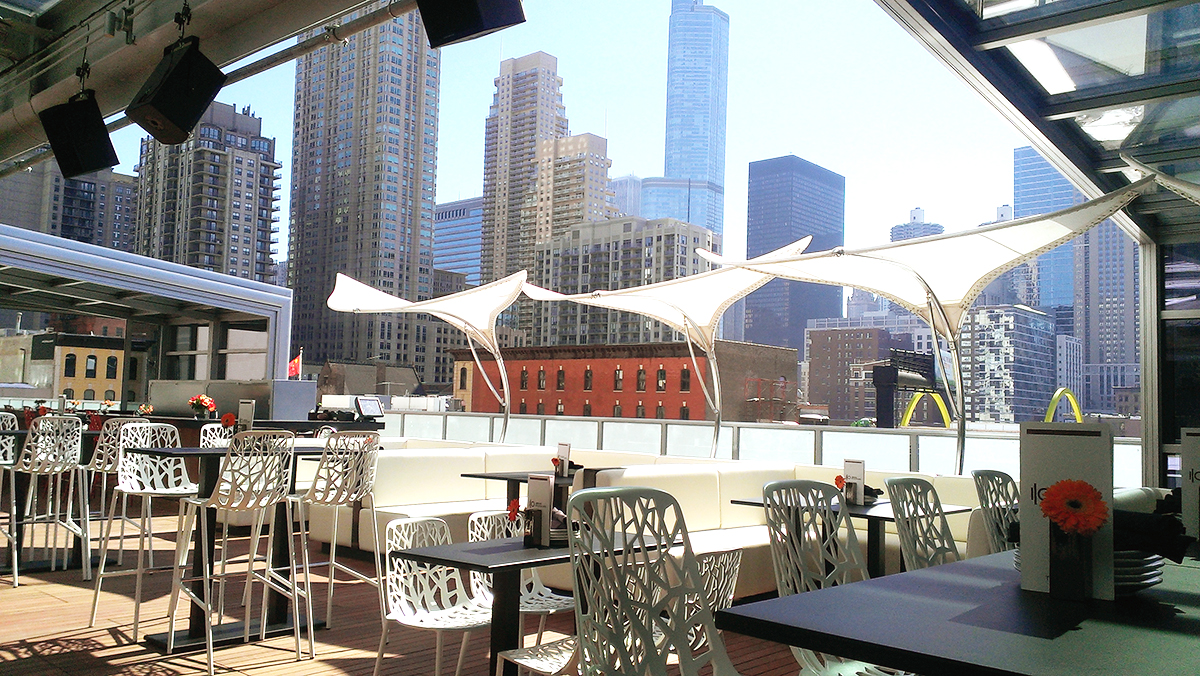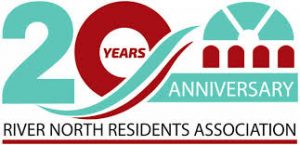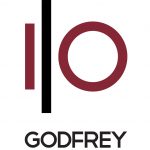 Thank you to The Godfrey Hotel Chicago for hosting the RNRA 20th Annual Meeting and Reception at their fabulous I|O Rooftop Lounge  with delicious appetizers and drinks on November 14, 2017.
In 2016 we updated our bylaws to reflect rotating terms to maintain leadership continuity. The meeting opened with the re-election of Jeff Stogsdill and Bob Gottfred, RNRA Directors whose terms are expiring on 12-31-17.  Both Jeff and Bob were re-elected for terms ending on 12-31-20.
Alderman Brendan Reilly and Commander Paul Bauer provided updates on Ward 42 improvements and 18th District Public Safety.
The RNRA Board of Directors shared passionately 2017 accomplishments and 2018 Priorities.
2017 Year-in-Review
Membership
Largest membership level ever - 47 Buildings and over 11,000 members!
Launched the "My River North" mobile app - over 50 participating businesses and almost 1,000 downloads!
Sponsorship
Largest sponsorship base ever - 74 sponsors across 14 categories!
Public Safety
Launched NEW Public Safety Committee and its mission with members from RNRA member buildings
Met every other month in the 18th District Community Room - public welcome
Attended CAPS Resident and Hospitality Meetings and Coffee with the Commander Meetings
Facilitated dialogue between residents and hospitality venues to resolve differences
Facilitated dialogue between residents and garage management regarding public safety and nuisance issues
Redesigned Public Safety Website
Development
Reviewed 9 new properties and co-hosted 4 community meetings with our Aldermen
Environment
Launched River North Clean Streets - Cleaning our streets on weekends while utilizing a service that helps disadvantaged Chicagoans transition back into the workforce
Completed 2 Ward Park clean-ups - Earth Day with Friends of the Park and Chicago River Day with Friends of the Chicago River.
Family
Hosted 3 Family Events in Ward Park - Spring Egg Toss, Back to School Party and Halloween Festival with the highest attendance and sponsorship presence ever!
Pets
Increased maintenance on our Larrabee DFA
Events
Hosted 17th annual Taste of River North -  over 20,000 attendees!
Hosted 5 movies in the Summer Film Festival at Ward Park  - La La Land had nearly 1,000 attendees and the first-ever pre-show dance performance!
Philanthropy
Supported 6 River North nonprofit organizations
2018 Priorities
Drive membership to create a stronger voice - The larger our membership the stronger our voice and the better we are able to serve our community as your premier neighborhood organization
Launch "My River North" future releases - further connect residents to build a strong sense of community
Grow My "River North" with more merchants across more categories - provide value to our members while supporting the local economy
Strengthen our public safety programs - grow Court Advocate program, improve communications by having a representative from the Alderman's Office be present at PSC meetings and proactively  establish relationships with Hospitality venues
Continue our rigorous development reviews
Maintain & improve the Larrabee DFA
Create community with Family programs, the Summer Film Festival and park clean-ups
Create a unique and entertaining River North experience with the Taste of River North
Contribute to River North nonprofit organizations
RNRA Green Streets Initiative Awards
It is with great pleasure that we announced our 2017 Green Streets Initiative Winners and Runners Up.
RNRA's Green Streets Initiative encourages the creation and improvement of public space by acknowledging the owners and managers of properties throughout River North for outstanding achievement in landscape beautification. We collected nominations from the community for outstanding examples of residential, commercial and non-profit properties and then selected 3 finalists in each category. We then asked our residents to choose their favorites in an online ballot!
To see our first place winners and runers up, click here.
Thank you!
Thank you to our RNRA Board of Directors and all RNRA Volunteers - neighbors who dedicate their time and talent to make a great neighborhood even better!
And thank you to all of you who helped us celebrate 20 years of being your premier neighborhood advocacy organization for this community we all know and love.
Call to Action - We are River North, neighbors that work together to create community and continually strive to protect and enhance River North.  Please consider..............
Thank you again to The Godfrey Hotel for their generosity in hosting our event!

Godfrey means peace and welcome; welcome to The Godfrey Hotel Chicago. Offering unforgettable style from the Cubist-influenced façade to the chic accommodations, each detail of this striking Chicago luxury boutique lifestyle hotel has been designed with the guest's experience in mind.
Everyday life requires us to live outside our comfort zone; outside our element.
We find ourselves in surrounding places with a generalized design intent meant for mass appeal. At The Godfrey Hotel Chicago, we've created a rare spot that will make you feel entirely at ease. We offer a unique style with attention to comfort.