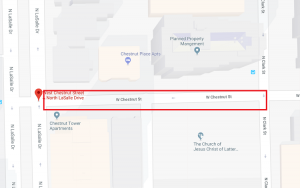 Neighborhood Notice: Chestnut Street Closed Tomorrow 4/13/18
Please be aware that Chestnut Street between Clark & LaSalle will be closed tomorrow (4/13) to dismantle the concrete barriers on the south side of the street. Certified flaggers will be on site throughout the day helping residents navigate the area.
Please be mindful that "No Parking" restrictions will be in place on the south side of the street. Chestnut Street should be opened back up by the end of the day.
If you have any additional questions please email me at Ward02@cityofchicago.org, or call the 2nd Ward Service Office at (312) 643-2299.
Source:  Alderman Hopkins Neighborhood Notice:  4/13/18